Pharmacy Solutions Offered
We are proud to be your source for all of your pharmaceutical needs. Medication Services
Prescription Refills and Transfers
Compounding
Compounding for Pets
Diabetes Specialized Care Center
Erectile Dysfunction Medication
Immunizations
Long Term Care Services
Medicare Open Enrollment
Medication Adherence
Medication Therapy Management
Prescriptions for Pets
Supplies for Physician Offices
Home Delivery for Qualified Patients Over The Counter
Pain Medication
Cold and Allergy Medication
Vitamins and Supplements
Oral Health Products
Feminine Hygiene Products
First Aid Items
Cosmetics
School and Office Supplies
Infant Care
Hair Care
Shower and Bath Items
Sunscreen and Bug Spray Cards & Gifts
Home Decor
Greeting Cards
Special Occasion Items
Seasonal Gifts
Kid's Toys
Candles
Gift Cards
Scarves, Purses and Tote Bags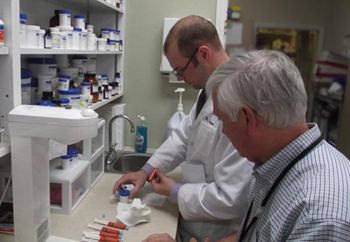 Compounding
Compounding is the combining or altering of ingredients by a pharmacist, in response to a licensed practitioner's prescription, to produce a drug tailored to an individual patient's special medical needs. In its simplest form, traditional compounding may involve reformulating a drug, for example, by removing a dye or preservative in response to a patient allergy. The FDA believes that pharmacists engaging in traditional compounding provide a valuable medical service that is important to patient health.
Your Hendersonville Health Mart Pharmacists have the ability to compound most meds to different strengths that are not commercially available on the market. For example: Antibiotics changed from a pill form to a liquid form. We also offer compounding for your pet and can flavor their medications appropriately.
What makes us Hendersonville's Preferred Pharmacy?
Specially Formulated Hormones
We specialize in compounding BHRT (Bio-Identical Hormone Replacement Therapy). We are proud to offer same-day compounding!
Custom-Flavored Medications
We can custom-flavor many of our liquid medications to a wide variety of flavor choices! Cherry, Chocolate Mousse, Root Beer, Lime Pie and Strawberry are just a few of the dozens of flavors available.
Customized Antibiotic Strengths
Customized antibiotic strengths means that we have the ability to customize a special strength of certain antibiotics that are not currently on the market.
The Health Mart Pledge:
We are your locally owned Health Mart pharmacy here to serve you. As a Health Mart pharmacy we know there's nothing more important than your family's well being, which is why we strive to provide personalized care to help you and your family with your healthcare decisions.
Care, quality, value, expertise, and dedication - at Health Mart we pledge to:
1. Care for you like a member of our very own family.
2. Always offer the highest quality products and services.
3. Provide you with exceptional everyday value.
4. Deliver leading-edge knowledge and expertise.
5. Dedicate ourselves to being there in your times of need.